There was once a time when the Ryukyu Dynasty was in Amami Oshima, and Amami Oshima was a place where Ryukyu culture and Satsuma culture intersected.
The villa is a modern reconstruction of an old house from the Ryukyu Dynasty period.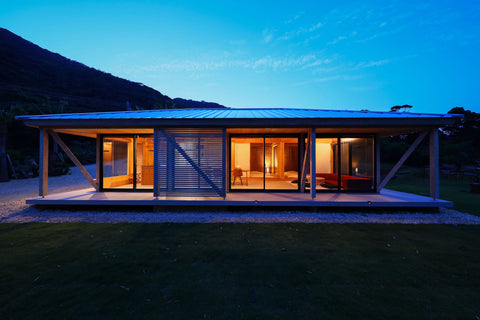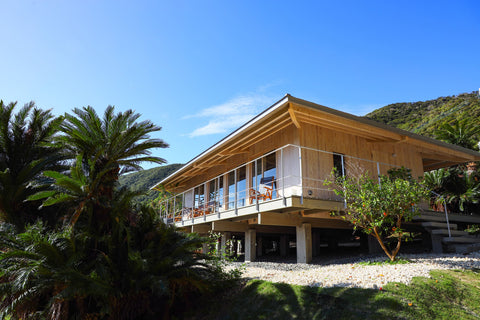 A space that integrates the interior and the garden
You can relax and enjoy the scenery in a space integrated with the garden. Also, you can feel the magnificent nature of Amami Oshima from inside the room as it is entirely covered with glass.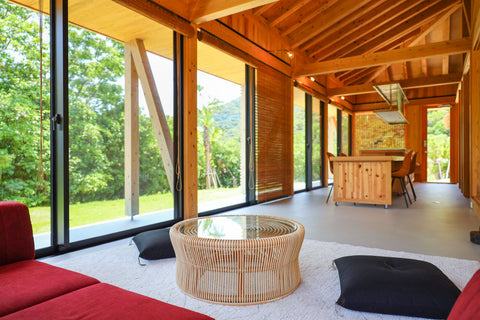 Kitchen and dining space surrounded by ocean and mountains
Enjoy dishes prepared with parsley, basil, pak choi, mint, sansho leaves, rosemary, chili peppers, etc. (free of charge) from the herb garden on the premises.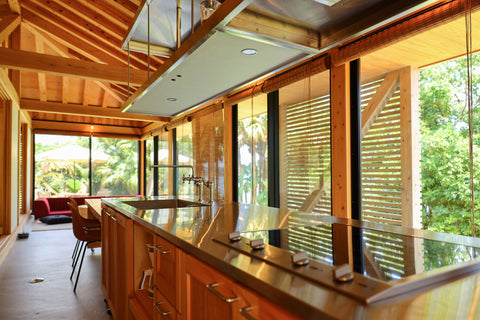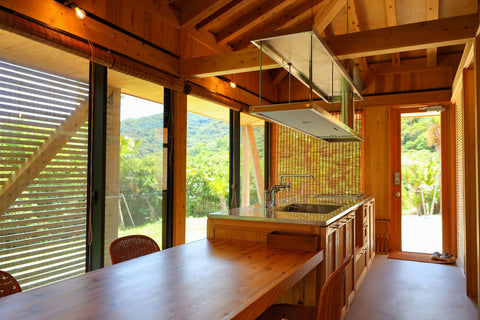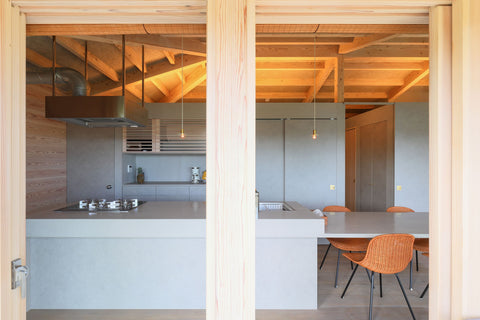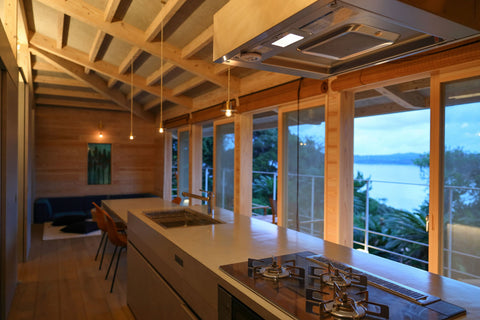 Ryukyu modern tatami room
Two bedrooms are furnished with tatami mats, which fit in well with Japanese-style houses. When the futon bedding is stowed away, you can use them as a place to lie down and relax. Futons are available for four people. Please spend a relaxing time while imagining the days of the Ryukyu Dynasty.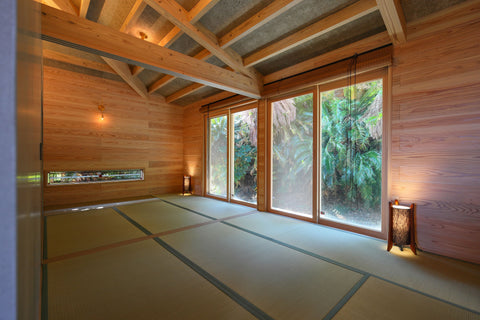 Scented shower room
Enjoy the fragrance released from the diffuser of the Irish fragrance brand "MAX BENJAMIN".

【Fragrance】 Dark fruity aroma of plum and blackcurrant with a soothing woody tone. Plum, jasmine, frankincense, cedarwood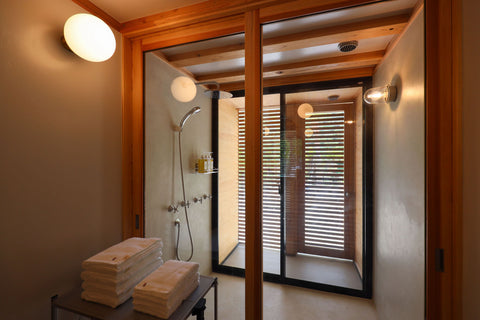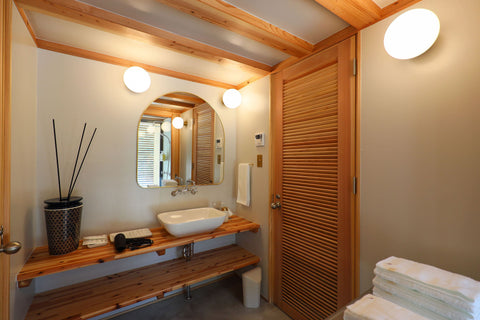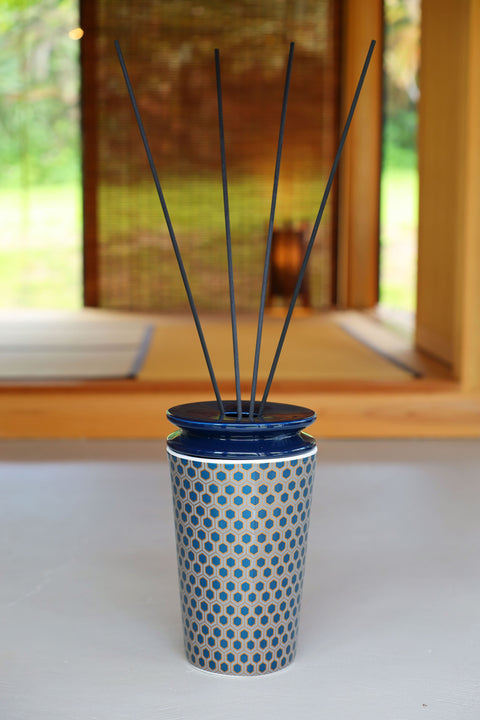 Approximately 1,800㎡ garden surrounded by azure sea and virgin forest
Enjoy barbecues and campfires in the grounds with fire pits amidst the native bilou and sycamore forests of Amami Oshima. There is also a Japanese-style deck created by a temple carpenter.
Ashitoku seaside
The beautiful beach of Ashitoku appears just a 2-minute walk from the villa. Because it is an inland sea, the waves and winds are gentle and soothing. This beach is recommended for morning and evening walks.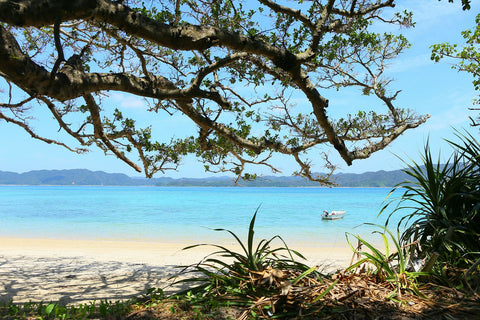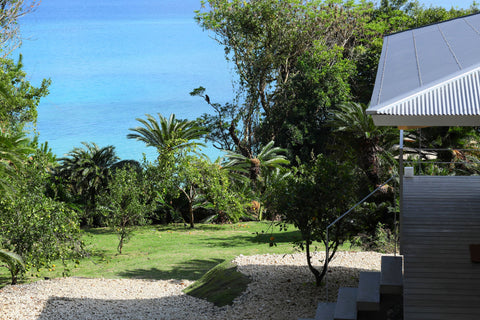 Contrast of sky and light
Admire the starlit sky and illuminated birou trees in the serenity of a private villa.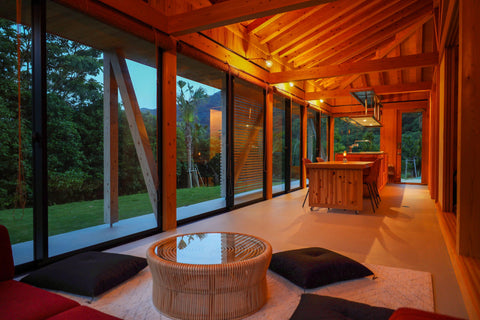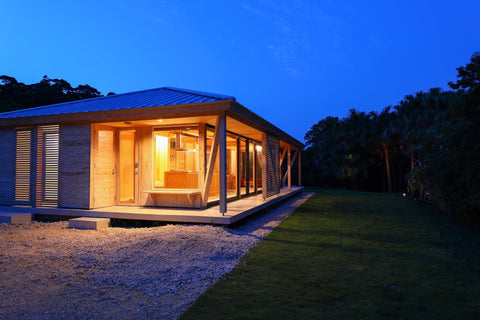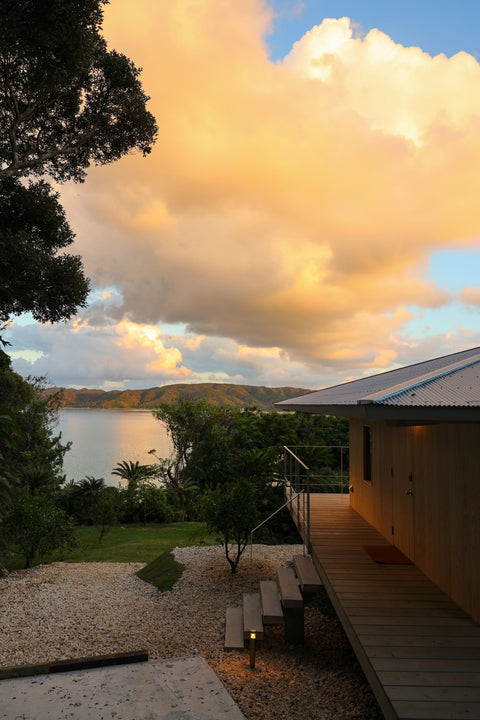 Permanent exhibition of works by artists associated with Amami Oshima
Numerous artists have lived in Ashitoku, where Ryukyu Villa is located,
and many artists have moved to the area from outside the island.
The villa displays their work indoors and in the garden.
Gardener: Kazuki Nakayama
Born and lives in Amami Oshima. The next third generation of "Nakayama Landscaping", a landscaping business. As a landscape architect, he has created gardens all over the island.

【Major gardens worked on in the past】
・Amami park(Kasari), Udonhama park (Ohama-cho), Umigame park(Kuninao), Mineyama park(Yamatoson town hall), Ayamaru cape tourist park(Kasari), Amami forest police(Yamato), Thidamoon(Hotel), miru amami(Hotel), m-dear Amami(Tower condominium), Oshima tsumugi mura、Oshima high school
Shrine carpenter: Naotaka Saito
【Profile】
After experiencing the Yakuza, he became a shrine carpenter. He has been involved in the construction of shrines, temples, and other structures throughout Japan. He lives in Amami Oshima Island and Kanagawa Prefecture.

【Major buildings he have worked on in the past】
Shirahige shrine(Tokyo), Daikyu temple(Hokkaido), Renjyo temple(Ibaraki), Asakusa shrine(Tokyo), Ryuan temple(Amamioshima), Jyoraku temple(Tokyo), Daiou temple(Saitama), Honjyo temple(Akita), Shinmei shrine kaguraden(Tokyo)
展示エリア:琉球ヴィラ・ソテツ
奄美大島に流れ着いた2種類のブイ(浮標)で"ソテツ"を模った循環型オブジェクト。鑑賞者が新たにソテツの葉を加えてオブジェの姿をアップデートすることができる。
アーティスト:久保英祐
奄美大島出身。インテリアデザイン・製造を行うクリエイター集団EXIT METAL WORK SUPPLYへ入社し、数々のプロジェクトに参加。その後、独立し、アート、音楽、映像をプレゼンするアートレーベルDAWNを主宰。

【過去の展覧会】 "Drift展"(会場:福岡Art pod 99/東京Gallery cafe 78)"Drift Store"(会場:奄美en-hostel&cafe bar)"ビザールバザール"(会場:奄美万寿果)
Photographer: CHAR / Hisayuki Tsuchiya
Academy of Art University in SanFrancisco Fine Art B.F.A. in Photography
He continues to capture the soul that resides in all things and the universal light that exists within from his unique perspective, and is active in a variety of fields beyond the boundaries of photography.

・National Geographic Photo Contest Grand Prize
・Kawase Naomi's film "The Second Window": In charge of underwater video shooting
・NHK Taiga historical drama "Saigo-don": In charge of main visual poster photo shoot and opening underwater video shooting
 etc
Metalworker: Takuya Nishimoto (sen)
Born in Kyoto. Lives and works in Amami Oshima. Using brass as the main material, he designs and produces products related to architecture.

【Major architecture he have worked on in the past】
Omotesando GYRE(Tokyo), Hirosaki Museum of Contemporary Art(Aomori), arts&science(Tokyo), MAIZON(Paris) etc
【Past Exhibitions】
・"pass down"(Venue: Shanghai, China)
・千sen / Tatsuma Segawa art exhibition "Colors of Patina"(Venue: doinel)
・"Distinctive and beautiful appearance-woodworking and metalworking-"(Venue: Daikanyama Tsutaya books)
・"CAFÉ DU GRACE 921GALLERY 15th Anniversary"(Venue: CAFÉ DU GRACE 921GALLERY)
・"Resonance"(Venue: Public Record Auckland,New Zealand)
・"Living Crafts Exhibition 2021" (Venue: gallery yamahon)
・"Ochaya-ato 4th Anniversary" (Venue: Ochaya-ato)
etc
Stained Glass Artist: Hiroshi Kumazaki
【Profile】
Born in Shizuoka Prefecture. Lives and works on Amami Oshima Island.
As the head redlighter (production manager) of the long-established North Shore Stained Glass in Sydney, Australia, he continues to produce and install traditional stained glass, a traditional European and American craft, while creating works under the theme of Surf & Nature in his own studio.
Since 2002, he has moved his studio to Amami Oshima, where he produces works that naturally blend into the Japanese vernacular architecture.
RYUKYU Villa
〒894-0412
1647-5 Ashitoku, Tatsugo, Oshima-gun, Kagoshima, Japan

[ Access ] Approximately 16 minutes by car from Amami Airport. (Equipped with a parking lot) Amami Oshima is a remote island in Kagoshima Prefecture. It can be accessed by air or ship.